We have 142940 visitors

since

July 15 2008


Evacuation Of Afghan Interpreters And Others Who Aided U.S. To Begin In Late July
Heard on All Things Considered

An American lieutenant, center, meets with villagers in Afghanistan's Kunar province in 2009, assisted by an interpreter, sitting to his right wearing a baseball cap. The U.S. will begin the evacuation of some 18,000 Afghan nationals who aided military operations, along with their families, in late July.
David Guttenfelder/AP
The U.S. will begin flying Afghan nationals who supported U.S. and coalition operations in Afghanistan, according to a senior Biden administration official. Evacuation flights will begin in the last week of July.
During the 20-year war in Afghanistan, thousands of Afghan citizens served as interpreters, provided intelligence and assisted the U.S. and its coalition partners as drivers, security guards and in other roles.
Roughly 18,000 Afghan nationals, along with tens of thousands of their family members, have applied for special immigrant visas to the U.S. But administrative delays have long meant the visa process can take years, allowing the backlog to grow.
Now, with the U.S. withdrawal 95% complete — and Taliban control of the country growing by the day — the threat of revenge attacks on those known to have worked with the U.S. is at a renewed high.
Under the effort, called Operation Allies Refuge, as many as 70,000 people will be flown out of Afghanistan to one or more third countries while they await visa processing. Those third countries could include Uzbekistan, Tajikistan or a country in the Middle East or Europe, according to a senior Pentagon official who was not authorized to speak publicly. It could also include the U.S. territory Guam.
Article continues after sponsor message
According to the administration official, the operation will be led by longtime State Department veteran Ambassador Tracey Jacobson, who previously served as chief of mission in Kosovo, Tajikistan and Turkmenistan. Russ Travers, deputy homeland security adviser and former head of the National Counterterrorism Center, will help coordinate among federal agencies.
The evacuation faces serious challenges, defense analysts say. Many of the applicants and their families live outside of Kabul in regions already captured or contested by the Taliban. It may be difficult for embassy officials to contact people in rural areas.
A key to the future of U.S. and other diplomatic missions in Afghanistan is the security of Hamid Karzai International Airport in Kabul, the country's lone international airport. Turkey is expected to provide security for the Kabul airport, together at least for a time with U.S. troops who will also provide security for the U.S. Embassy.
Pressure had been mounting on the White House for months to take concrete steps to evacuate the interpreters and other Afghan nationals.
Last month, a bipartisan group of House lawmakers, several of whom served in the Middle East alongside interpreters and fixers from Afghanistan and Iraq, introduced legislation to ease administrative obstacles.
Those obstacles included requiring visa applicants to get a medical exam that was only available at a single clinic in Kabul, lawmakers said. Now, applicants can get the exam within 30 days of arriving in the U.S.
The bill was authored by Rep. Brad Wenstrup, a Republican who served as a combat surgeon in Iraq, and Rep. Jason Crow, a Democrat who did three tours as an Army Ranger in Iraq and Afghanistan. It passed the House late last month with overwhelming bipartisan support and has gone to the Senate.
The Value of "Real Life" Connections
Hay House
Sun 7/11/2021 11:17 AM


We're still up in Idaho, and this week my wife Kristina and I went to dinner at a restaurant here in our town. At the table of four behind us, we noticed that every person was looking at their phone for almost the whole meal. No talking to each other at all.

It seems like every year, increasing numbers of people are more interested in their phones than the people around them. As my wife Kristina commented after we made this observation—"There are more lonely people than ever, even with all the new 'connections' now available online."

Kristina and I have always had a "no phones at the table" rule, and although our kids think we're old-fashioned, we want to have real conversations as a family or with friends without devices getting in the way. (Of course, this is harder now that we often need to pick up our cell phones to view the menu at restaurants.)

Even when our kids were younger, we wouldn't let them have a phone until they finished sixth grade. We also set strict limits on phone and iPad use, allowing them only to play an occasional game or watch a video on a long car ride.

Now that our kids are young adults, they're very attached to their electronic devices, but we still don't allow phones at meals at home or in a restaurant. I'm just hoping that as they get older, they'll remember what it's like to connect with others without their phones 24 hours a day.

I don't know what it's going to take to get people to try and connect without a phone in their hands. I'm constantly reminding myself that I need to put down my devices, live life, and remember to connect with people in real life—not just through a device.

For me, I give myself relief from electronic devices each year when I'm in the wilderness of Idaho, like I am now. Here, I can't be on my phone all the time because there's often no cell service when we're out and about.

Let's all try to spend time without our electronic devices this week and talk to people the old-fashioned way—not just with texts or Facebook messages but in person or on the phone.

Wishing You the Best,
Reid Tracy
CEO, Hay House


KITCHEN
This story is part of Eat More Plants, Kitchn's June 2021 special issue devoted to putting the flavor and magic of plants at the heart of your plate.
"Eat food. Not too much. Mostly plants." In the years since Michael Pollan, author of In Defense of Food: An Eater's Manifesto, provided us with this simple philosophy on food back in 2008, the term "plant-based eating" has skyrocketed in popularity. What exactly does it mean? Here's the SparkNotes version: Whereas veganism and vegetarianism are defined by what you don't eat, plant-based eating is defined by the abundance of what you eat — mostly foods that are derived from plants.
Read more: What Exactly Is a Plant-Based Diet?
For many people, taking a plant-based approach to cooking and eating at home might seem a little out of reach at first (think: Overflowing CSA subscriptions and weekly trips to pricy farmers markets, supplemented by excursions for wild-foraged mushrooms and ramps). Alas, most home cooks don't have the luxury of extra time, resources, or access to specialty produce. That's not to say that farmers markets aren't amazing hubs for excellent local fare, or that supporting small-scale growers isn't important — they are! It is! — but we're here to tell you that there are plenty of other ways to eat more plants.
We recently surveyed a diverse group of very busy people who eat a lot of plants on the regular — and enjoy doing it. They shared their best tips on how to shop and set yourself up for plant-based success. Guess what? It all starts in the grocery store.
1. Plan a weekly shopping trip.
Many home cooks find that the wheels fall off when there's a lack of fresh food in the refrigerator. Dr. Yamileth Cazorla-Lancaster, a pediatrician who focuses on helping families enjoy a myriad of balanced foods, avoids this by shopping smart, once a week. "I only grocery shop once a week. My life is super busy so I need to be very efficient."
To make this tactic work for you, make a list before you head to the store, with a whole week's worth of meals and snacks in mind. Don't forget to do a quick inventory of your cupboards and pantry before you go. Those olive-oil roasted root veggies you've planned for Wednesday won't work if you've just used up the last of your EVOO.
2. But don't buy too much at once.
"Don't buy too much at once!" says Amanda Cohen, the founder and chef of NYC-based, veggie-worshipping restaurant Dirt Candy, cautioning against over-zealous produce aisle decisions that devolve into a pile of soggy lettuce in the corner of your fridge. A bunch of wasted produce could end up discouraging you, and that's not what we're after.
Buying heads of kale and whole beets may be virtuous, but it's only smart shopping if you have the time (or energy) to prep them yourself during the week. Convenience items found in your grocer's produce section may cost a little more because you're outsourcing the labor to wash, chop, and season those veggies. But if they help you meet your quota of leafy greens and root veggies, they are a worthwhile purchase.
Amy Palanjian, the blogger behind Yummy Toddler Food, is a fan of pre-shredded cabbage for "adding crunch to tacos and salads." She also prefers already-prepared, frozen, diced sweet potatoes to their fresh-out-of-the-ground counterparts. "I steam them, then mash them with a fork with butter and salt," she says.
4. Just buy the darn salad kit!
Piggy-backing off of #3, salad kits make it seriously easy to add more greens to lunches and dinners because, in addition to the lettuce, most kits include portioned-out accoutrements such as shredded cheese, nuts, dried fruit, croutons, and dressing. Sure, they cost more than a bag of plain lettuce, but they contain everything you need to make a salad from start to finish.

Read more: In 2019 We Reviewed Every Single Salad Kit in America. These Are Our Favorites (STILL).
Palanjian loves a good salad kit for this very reason: "I've found that having even just one on hand each week increases the odds that I'll eat a veggie with my lunch (and my kids love the Caesar ones!)" She's also a fan of the Taylor Fans Avocado Ranch Kit.
Rebecca Jaspan, a Registered Dietitian who practices in New York City, is, as she says, "obsessed with Trader Joe's salad kits. They are a delicious way to eat a ton of veggies for easy lunches or dinners."

Read more: Our 5 Favorite Salad Kits from Trader Joe's
5. Don't hesitate to buy vegetables out of season, if you want them!
Many people are married to the idea of exclusively eating seasonal produce. But some of the experts we spoke to suggest doing the best you can. "Eating only seasonally is not realistic," says Cohen. The key is to purchase whatever produce you're more likely to eat, so if that out-of-season tomato is calling your name in December, snap it up and enjoy it. Also, who cares if that pepper isn't photoshoot-worthy? Don't pass over produce just because it isn't perfect-looking. In fact, your kids might be more likely to eat those wacky-shaped carrots!
Julia Sherman, the creator of Salad for President, makes sure to stock her refrigerator with "more forgiving veggies — things that store well and won't stress me out." Root vegetables, like beets and carrots, last for weeks when stored properly, and hardy cooking greens (i.e., kale and collard greens) will keep much longer than leaf lettuce.
7. Go ahead, try a plant-based meat alternative.
"There are so many plant-based meat substitutes available in the grocery store these days that you're practically guaranteed to find your meatless match," says Kitchn's Deputy Food Director, Grace Elkus (and the creator of Tonight We Veg).

According to Grace, these subs can fit right into your regular cooking routine … if you let them. "A lot of them — like Beyond Meat and soy chorizo — can be seamlessly swapped in for meat in your favorite recipes, so you don't have to go out of your way to find completely new recipes."

Read more: A Personal Guide to the Best Vegetarian Meat Substitute for You
8. Shop the freezer aisle.
Fresh fruits and veggies get all the attention, but don't overlook their frozen counterparts. which are typically picked and frozen at peak ripeness.
Dzung Lewis of the food, parenting, and lifestyle brand Honeysuckle frequently buys berries in the frozen section: "I love using them for baked goods like blueberry muffins or raspberry scones. They're usually picked at peak season so they're very flavorful! " While the freezer section can be helpful for sourcing out-of-season produce, don't feel bad about reaching for frozen foods — even when the fresh versions are in season. If you're more likely to cook (and eat) frozen spinach than fresh, then buy that.
"Frozen veggies work great in stir-fries, soups, and stews. They also do wonderfully steamed and roasted," says Cazorla-Lancaster. "I also love throwing frozen broccoli in my air fryer — it comes out perfectly."

Related: The 3-Step Method for Roasting Perfectly Crispy Frozen Vegetables
Frozen veggies and the air fryer are a match made in heaven. Don't just stop at broccoli: Alice Choi, of Hip Foodie Mom, uses her air fryer for everything including sweet potatoes, cauliflower, and even zucchini. We're partial to air-fried tater tots. (Yes, potatoes are veggies)
9. Check out the gadgets section of your grocery store.
If your grocery store has a gadget aisle (and most do!), look for items that will make vegetable prep easy and efficient. Cohen suggests having a plan for each vegetable (or fruit) you buy, which means it's helpful to have a variety of cooking options — and necessary tools or appliances — handy.
Choi is an ardent fan of her vegetable peeler, which she uses in a variety of ways: "I not only use it as a vegetable peeler, but I also use it to make carrot and zucchini ribbons. The julienne tool is super helpful as well when I need matchstick-sized vegetables."

Related: The 28 Essential Tools and Gadgets Every Home Cook Needs for 2021
10. Go big on sauces, dressings, and crunchy bits.
We've all heard this advice before: Stick to the perimeter of the grocery store. This advice is meant to guide shoppers toward the fresh, "whole" foods, and keep them away from packaged or processed items lurking in the center aisles. If you avoid the middle of the grocery store, though, you're missing out tons of items that'll entice picky toddlers (or reluctant adults) to go in for a serving of green things.
According to Jaspan, "Sometimes enjoying veggies is just about getting a little creative with seasonings. I love tossing carrots in honey and balsamic vinegar, Brussels sprouts in Sriracha and maple syrup, and zucchini coins in garlic powder and Parmesan cheese."
Cohen's top tip for eating more plants is to make them delicious first. For flavor, she relies on preserved lemons, pickled limes, olives, capers and caper berries, crispy fried onions or shallots, and fresh herbs.
Let's also give a shoutout to dip: ranch, specifically. This tried-and-true familiar and inexpensive bottle — or seasoning packet — is a favorite among parents for its ability to turn a "No thank you," into a "More carrot sticks, please." (Palanjian's toddler has recently discovered how delicious Hidden Valley Ranch tastes with with sliced cucumbers.) She also cites this bottled peanut sauce as another veggie sidekick.

Related: My Family's Favorite Cucumber Salad Is Basically an Excuse to Eat More Ranch
Are you a person who eats a lot of plants? We'd love to hear your grocery store secrets for buying (and eating) all of the veggies. Share your tips with us in the comments.
Rochelle Bilow is a graduate of the French Culinary Institute, the former social media manager at Bon Appétit Magazine and Cooking Light Magazine. She has also worked as a cook on a small farm in Central New York, and a Michelin-starred restaurant in New York City. Connect with her @rochellebilow.
This Calming Flower Medicine United Ancient Cultures
NP
Nick Polizzi <info@thesacredscience.com>
Tue 7/13/2021
Hi Thelma,
What is the first herb you learned was actually medicine?
It's easy to get caught up in all the articles and new studies on promising natural remedies, but what about that first piece of herbal knowledge you ever came across? Maybe in your grandma's kitchen... or in a novel you read as a teenager?
For me, it was chamomile. When I was little, this bittersweet herb was given to me as a bedtime tea when I was exhausted or had a stomach ache. I didn't think about it much as a kid. I just trusted the magic in the cup and accepted its healing with child-like faith.
But as I began to study this common flower, I learned just how powerful chamomile is.
The first use of chamomile goes all the way back to ancient Egypt. And they used it in the same ways we do today: teas, oils, and baths... Chamomile's relaxation benefits were also recognized by the wanderers of modern-day Germany and all throughout the markets of ancient Rome. And guess what - they all used chamomile in the exact same ways.
So how could they all know that chamomile was a calming remedy? Their cultural lifestyles, spiritual practices, culinary processes and languages were all so different- yet this healing plant spoke to them in the same way. Crazy, right?
Well, the answer seems simple enough to me. If these very different ancient groups came to the same conclusions about this little white flower, it has to be what we call "evidence-based" medicine.
Thousands of years of practice and experience with chamomile back up these ancient claims, but modern science has taken it one step further. Researchers and healers have been studying chamomile and it's no surprise that this ancient wisdom is being proven out in modern laboratories. Turns out, our ancestors knew a thing or two...
So what have scientists discovered about chamomile so far?
Chamomile is a potent medicine.
When you break chamomile down into its chemical constituents, its two most notable attributes are volatile oils and flavonoids. The volatile oils are responsible for chamomile's sleep-time reputation - they relax muscles and calm the mind, while the flavonoids (specifically apigenin) have been proven time and time again to bring down anxiety and soothe depressive feelings.
In addition to that, studies have shown that chamomile is one heck of a pain killer. Not only does it work topically to relieve aches and pains, bring down inflammation, stop muscle spasms, and heal wounds - you can take it internally as a tea, tincture, or syrup and get the same results.
And here's the real kicker - chamomile is incredibly safe. (So safe in fact that it is traditionally used for teething or fussy children.)
It's no wonder this herb is a total "go-to" remedy for people across the world, young and old alike.
Most people can take chamomile every day for the rest of their lives with no side effects - and many of my friends do! You'd just get the gifts of deeper sleep, a strengthened immune system, and a balanced stress response.
Please note - it is quite rare, but some folks who have an allergy to ragweed, daisies, marigolds, or chrysanthemums might also experience an allergy to chamomile.
A tasty tip: my favorite way to drink chamomile in the summer time is to make a big jar of tea using heated spring water and a big handful of the dried flowers. Once it steeps, I then put it in the fridge overnight to cool off. Chamomile iced tea with a little bit of honey is a heavenly beverage on a hot day!
If you haven't already added this special plant to your herbal repertoire, make sure to give it a try. After thousands of years, this flower continues to be a household name and science can now back its safety.
Stay curious,
Nick Polizzi
Host of Proven: Healing Breakthroughs Backed By Science
& Founder of The Sacred Science
This message was sent to tjalcordo@hotmail.com from info@thesacredscience.com

Nick Polizzi
The Sacred Science, LLC
1250 Addison Street. Suite 211-A
Berkeley, California 94530



Darren Hardy
WTF TODAY
Most people can eat the same breakfast weeks in a row, without complaint. But the same dinner for weeks? Now, that's just insanity.
*Wild Thought For Today
History classes are only going to get longer and harder as time goes on.
Learn to help people with more than just their jobs; learn to help people with their lives."
- Jim Rohn
Human birth control pills work on gorillas
WTF TODAY
We rescue homeless animals and shun homeless people.
*
WTF TODAY
"Strap-on" spelled backwards is "no parts."
*Wild Thought For Today
Shame, Blame, Promises and Peanut

Written by Shana Schutte
He heals the brokenhearted, and bind up their wounds.
Psalm 147:3
My husband and I live in the Colorado mountains. There is one critter who has become special to me in our neighborhood: a squirrel I have affectionately named Peanut. This little guy started coming around the woods in our back yard last summer. I started giving him expert-approved nuts now and then and we became friends. Now, when I call his name, he comes bounding through the forest behind our house to meet me on our back deck.

Last week, I heard Peanut chattering in the pine trees in the front of our home, so I called him to come down and meet me around back.

After I gave him an almond, he perched on one of his favorite spots on our wooden deck railing and I went back inside the house to work. A while later, my husband called to me from the driveway where he was cleaning out the car.

"I just saw a fox go across the back yard with a squirrel in its mouth!"

"Noooooo!" I cried. "Oh nooooo!" Tears quickly flowed. I have a soft spot for all things: puppies, plants, foxes, babies, and bugs. If it's alive, I love it—and this was my squirrel friend I have loved for 18 months through rain, snow, and sun.

"If I hadn't called Peanut out of the tree, he wouldn't have gotten eaten!" I sobbed. "I shouldn't have ever done that! It's my fault!"

"Don't blame yourself," my husband said. "Maybe it wasn't him." He gently hugged me, wiped away my tears, and I went back into the house.

As I walked into the kitchen, I thought, "That's it. I'm never getting attached to another animal again." A few moments later, I walked out the back door to the deck, and there was Peanut, sitting on a branch in a big pine tree. "Oh! It wasn't you! You didn't get eaten!" I cheered.

I know it sounds silly, all this fuss about a squirrel, but the whole experience got me thinking about how people naturally respond when they are emotionally wounded. They often resort to three human heart conditions just like I did when I thought Peanut had become a fox's lunch: Shame, Blame, and Promises.

Whenever we get hurt, we can feel shame. "I'm bad." Next, we blame ourselves or others "It's my fault" or "It's all their fault" and third, to cope with the pain of never experiencing something like that again, we make promises to protect ourselves, just like I did when I promised never to love any animals again.

The problem with shame, blame, and promises is that they take God out of our equation of heartbreak, disappointment, or pain. And this means we miss His grace, comfort, healing, and redemption. And, when you're busy protecting yourself from ever getting hurt again, you may miss the new blessings God wants to bring into your life.

So, what does that mean for me and you? It means that instead of taking the shame, embracing or giving blame, and making unhealthy promises to protect yourself, the Lord wants you to give your pain to Him. He wants to heal you and come into your pain to give you perspective.

Turning to Christ during heartache will keep you from being robbed of God's blessings. It will keep you from a hardened heart. It will keep the enemy from monopolizing on your hurt. And it will give space for God to work in your life.

So, I guess I will continue to open my heart to babies, bunnies, bugs, and squirrels. What does it mean for you?

"The Lord is near to the brokenhearted and saves the crushed in spirit" (Psalm 34:18).
Prayer
Lord, please help me to always give my pain to you rather than try to protect myself in unhealthy ways. Amen.
Application
Pay attention the next time you are disappointed or emotionally hurt and stay away from shame, blame and promises. Give your hurt to Jesus instead.
Where Did Marcos Hide His $10 Billion Fortune?
Almost 30 years ago, an American court ruled that victims of the Ferdinand Marcos regime in the Philippines should be compensated. The money was very well hidden.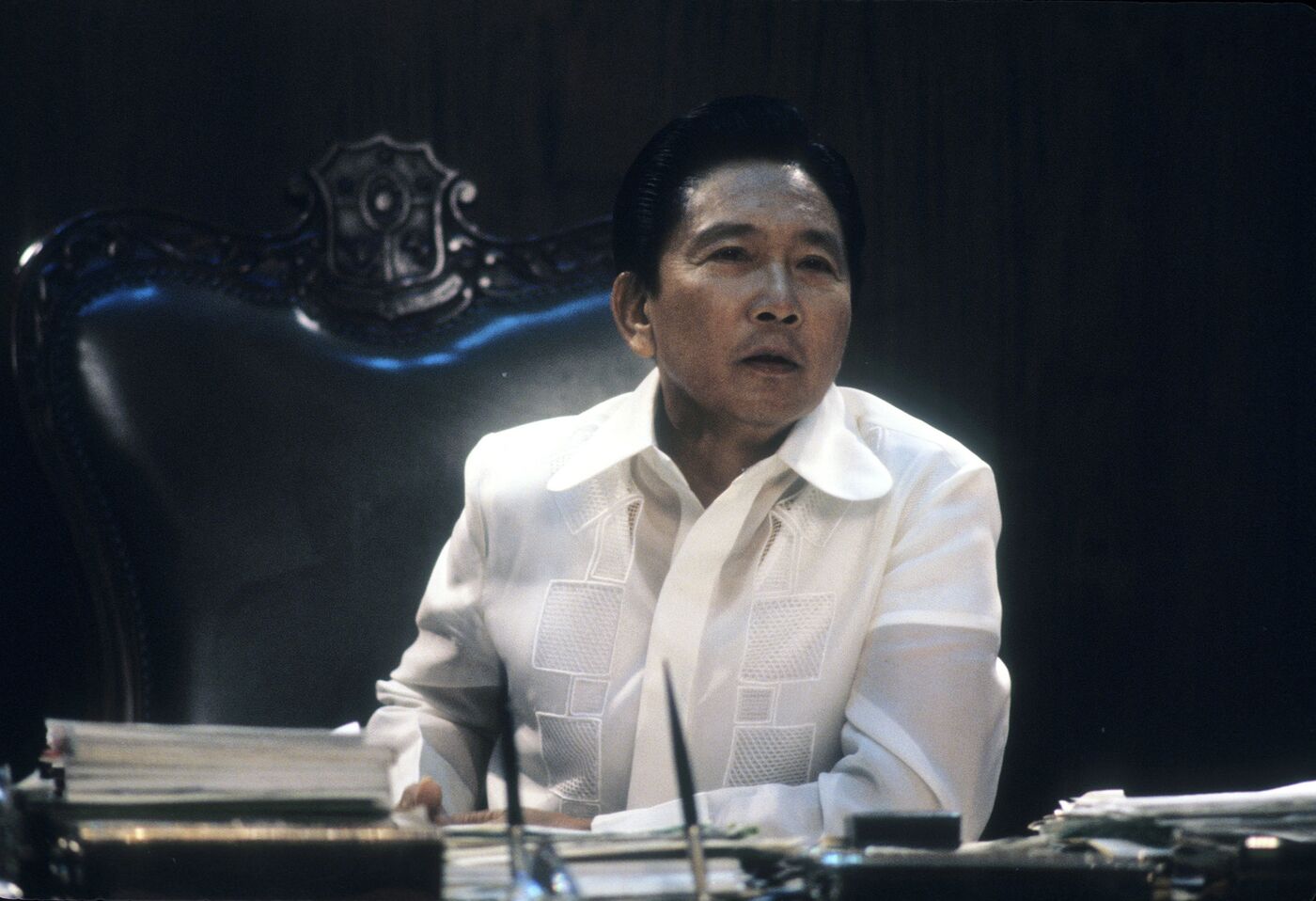 By
Haley Cohen Gilliland
Senator Paul Laxalt was in a classified briefing about political chaos in the Philippines when an assistant interrupted: He had an urgent phone call from Manila. On the other end of the line was Ferdinand Marcos, the country's president. Marcos wanted to know if it was true that Ronald Reagan wished to see him step down.
It was Feb. 24, 1986, and for the past several days millions of people had swarmed Manila's streets in protest. The immediate trigger was Marcos's victory in a seemingly fixed election, but the ire went much deeper. In the 1970s, Marcos had led a military government of uncommon brutality, disbanding Congress, silencing the media, and using the army to torture and kill thousands of citizens.
Marcos partially restored democratic government in 1981, and, in hopes of unseating him, a popular political opponent, Benigno Aquino Jr., decided to return from exile in 1983. But when Aquino arrived, he was assassinated on the tarmac of Manila's main airport. Amid rising tensions, the country plunged into its worst recession in history.
Through all of this, Marcos and his wife, Imelda, had become exceedingly wealthy by siphoning money from state funds. They amassed dozens of luxury homes whose walls they decorated with pieces—by Cézanne, Manet, Picasso, and Van Gogh—from a museum-worthy art collection. Imelda filled her closets with designer footwear and flaunted extravagant pieces of jewelry, including a 70-carat light-blue diamond worth $5.5 million, at least 400 times her husband's official annual salary, which never exceeded $13,500.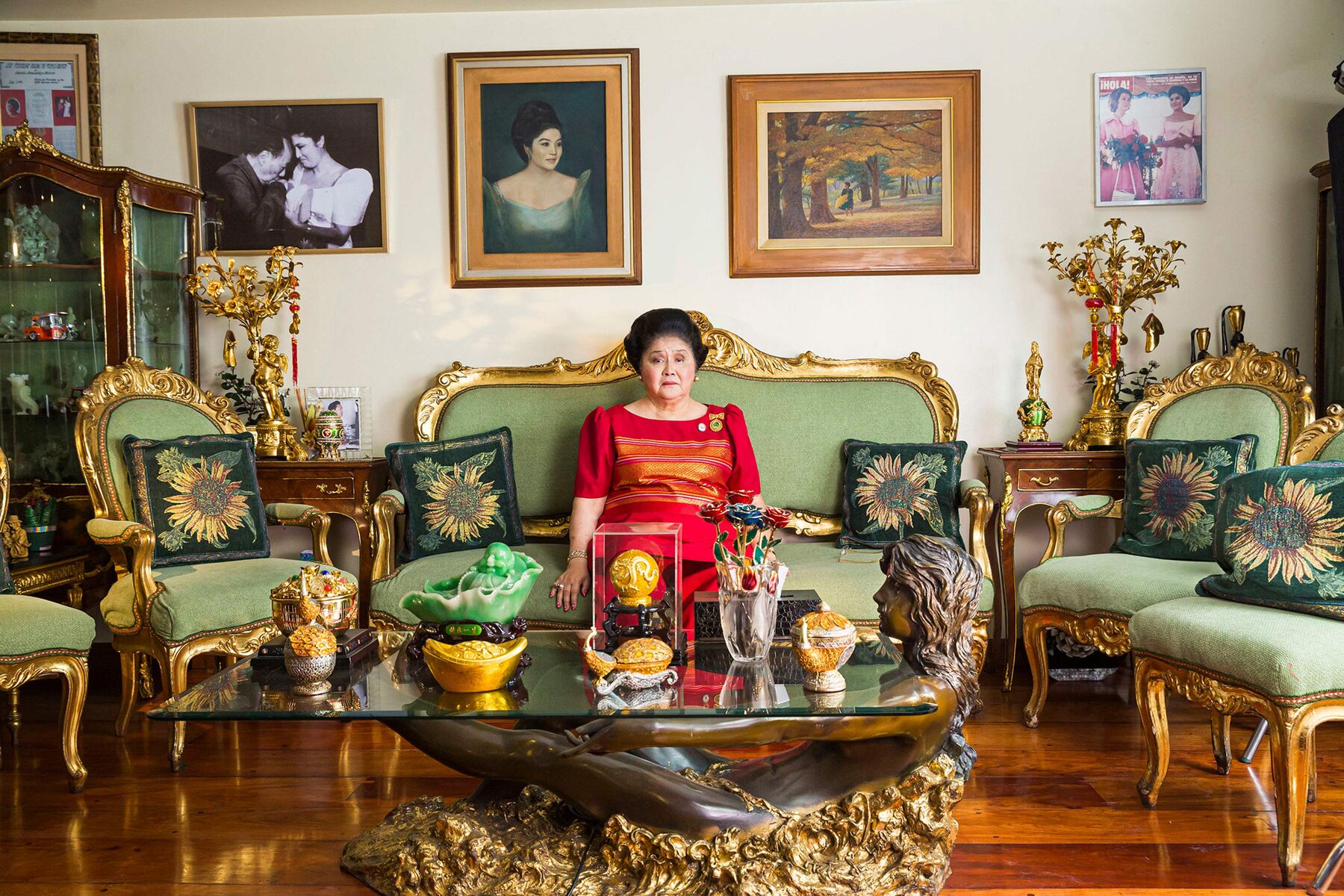 Meanwhile, regular Filipinos struggled to find work in a country with an unemployment rate that had spiked to an estimated 23% when the recession hit in 1984; import restrictions made basic products, such as ballpoint pens and razor blades, elusive. Finally fed up, they surrounded the presidential palace to demand that Marcos cede power to Benigno Aquino's widow, Corazon Aquino, whom they believed to be the rightful winner of the election.
"Senator, what should I do?" Marcos asked Laxalt, who was one of Reagan's closest friends, when the two men spoke that night, according to a briefing Laxalt later gave to reporters.
"Cut and cut cleanly," the Republican senator from Nevada responded. "The time has come."
The following day, Marcos and 90 members of his entourage boarded a U.S. Air Force C-141 transport plane and flew to Hawaii. According to reports in the Guardian and the Washington Post, they carried with them some essential belongings, including $7 million in cash and gems (some of which were transported in diaper boxes), 70 pairs of jewel-laden cuff links, and enough clothes to fill 67 racks. There were also 24 bars of solid gold, engraved: "To my husband on our 24th anniversary." But this represented a mere fraction of their assets.
Coming Soon
The brazenness of Ferdinand Marcos's graft—a haul the Philippine government later estimated at $5 billion to $10 billion—would become legendary, recognized by the Guinness World Records as the "greatest robbery of a government." It would also would set off what was arguably the most ambitious geopolitical treasure hunt of all time, as investigators and lawyers scrambled to track down the fortune.
Thirty-five years later, that hunt—recounted here based on interviews with victims of abuses under the Marcos regime, their families, and the attorneys who pursued the cash—has taken on political significance. Opponents had hoped Marcos's exile would marginalize him, but family members have since regained political primacy in the Philippines. They've played down human-rights abuses, which are now a distant memory for many Filipinos, and have won governorships, senate seats, and congressional posts. Ferdinand Jr., better known as Bongbong, is performing well in polls for next year's presidential race. "We knew that it would be a long road," says Sherry Broder, an American lawyer who has helped lead the effort to recover the stolen funds. "I don't think I anticipated it would be as difficult as it's turned out to be."

Broder read of the ousted dictator's arrival at Hickam Air Force Base on Oahu in February 1986 with a sense of outrage. "Why does Marcos get to come here? Why doesn't he have to go to Paraguay with Mengele?" she recalls complaining, referring to the Nazi doctor. She'd moved to Hawaii after graduating from law school in the 1970s, serving as an attorney for the state legislature when it redrafted the Hawaiian constitution, and had pursued some personal injury cases in private practice. She'd been interested in human-rights law and had been following the political situation in the Philippines, but the arrival of Marcos awakened something more ambitious in her: a desire to stop a former dictator from enjoying a comfortable retirement abroad.
Her plan centered on the Alien Tort Claims Act, an obscure statute from 1789 that allowed noncitizens to sue over international law violations in U.S. federal courts. It was rarely used until 1980, when a Paraguayan physician successfully sued a former police officer over the torture and murder of his son. On March 20, 1986, three weeks after the Marcoses showed up, Broder and her husband, an international law professor at the University of Hawaii, sued them under the 18th century law. Their plaintiff was Agapita Trajano, a Filipino woman living nearby.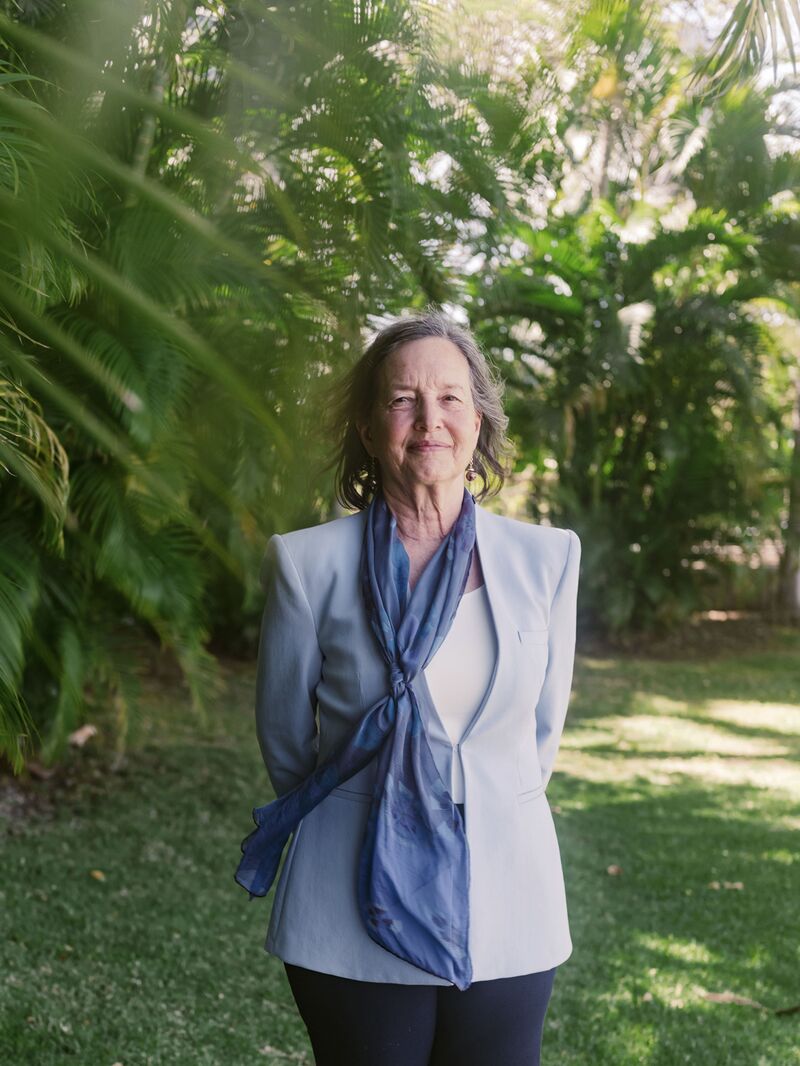 Over several emotional meetings (as would be recounted during legal proceedings and in court documents), Trajano told them how her son Archimedes, then an engineering student, had attended a 1977 forum at which Ferdinand and Imelda's eldest daughter, Imee, was the speaker. During the event, Archimedes asked Imee, who was head of a youth organization, if she would have received such an appointment if her father weren't president. Imee's guards hauled Archimedes away; his bloodied corpse was found on the street in Manila two days later. "Agapita had a few pictures that showed what had happened," Broder recalls, shuddering. "It was very upsetting. She just wanted justice for her son."
While Broder developed her case, she read about a similar one, brought by a Philadelphia lawyer named Robert Swift. Instead of suing on behalf of just one person, though, Swift had convened a group of victims to form the first-ever-human-rights class-action case. She called Swift to introduce herself and was impressed. He was meticulous and seemed to have a grasp of even the tiniest legal details. She suggested they join forces since the lawsuits would probably be transferred to Hawaii, where Marcos was living, and Swift would need a local counsel. Swift, who'd served as an Army infantryman in the Vietnam War and later became a Quaker, agreed and took over as the lead attorney.
Even before they had a chance to meet in person, the pair filed their complaint, attempting to serve the former chief of state in his temporary military housing at Hickam. This was no easy task. "He was being babysat by someone at the State Department," Swift recalls. "So the process server had to give it to the guy at the State Department, and the State Department official served Marcos." Later, the federal employee told Swift he'd felt a tinge of sympathy for the deposed dictator after seeing how Imelda stormed around yelling at him most days.
While Broder worked on crafting the legal argument they would present in the Hawaii courthouse, Swift traveled to the Philippines repeatedly, working with local lawyers and activists to meet with martial law survivors. Given the Philippines' history as an American colony, some Filipino human-rights victims viewed Swift and Broder warily.
They were angry the case was being lodged in the U.S., and were suspicious that the American lawyers might be motivated by the chance to win a cut of a large settlement. The case also seemed like an extreme long shot, suntok sa buwan or "shooting the moon," as activists later described it to academic researcher Nate Ela.
Despite these apprehensions, scores of victims began talking, recounting how military officers had used detainees' hands to put out cigarettes, forced them to sit naked on ice blocks in front of an air conditioner, and submerged their heads in toilets full of excrement. Swift recalls talking to someone whose fingernails had been pulled out one by one. "I couldn't fathom how the victims could endure it," he says. "Some accounts brought tears to my eyes."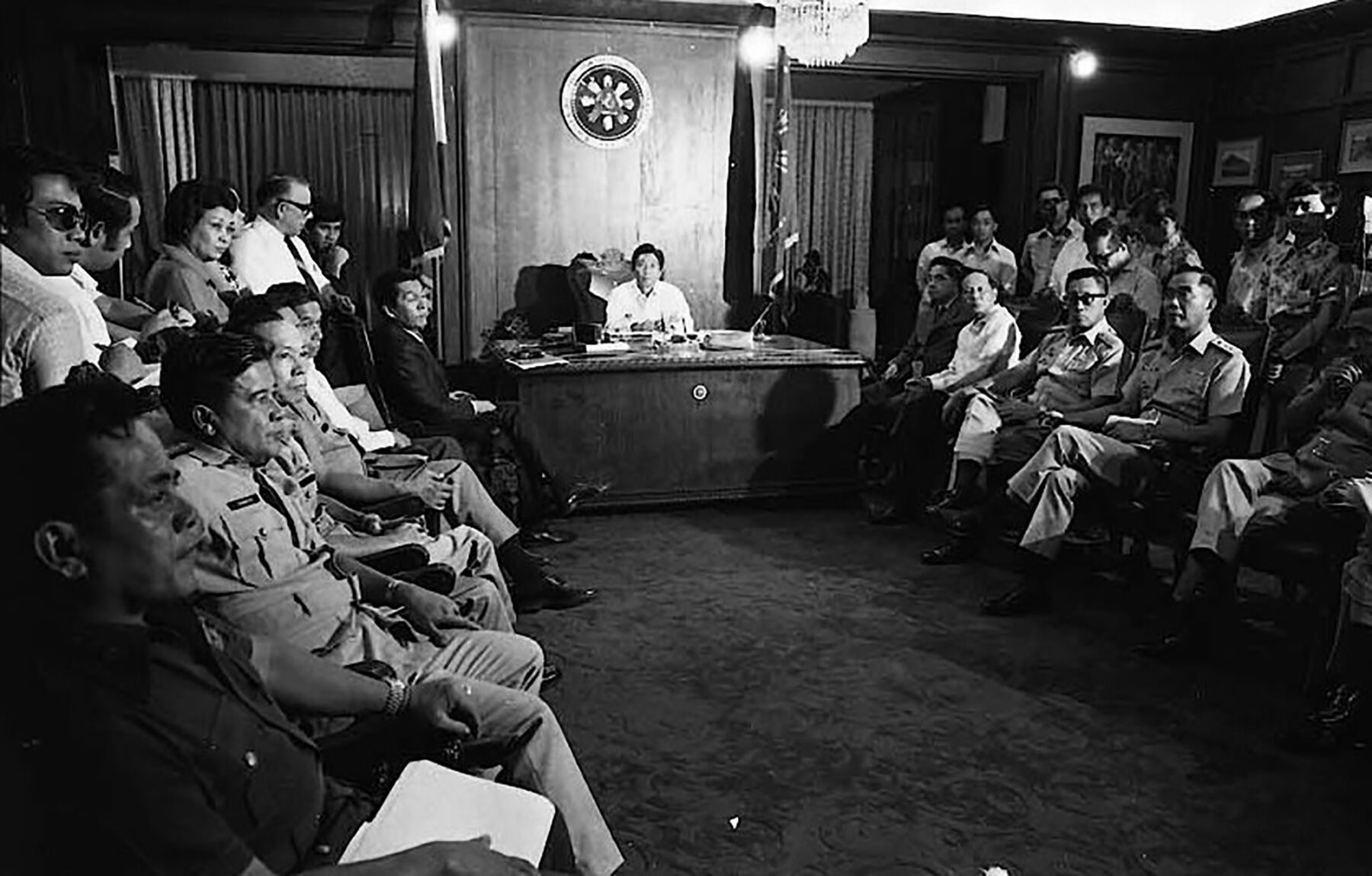 Marcos died in 1989 in a Honolulu hospital, but Swift and Broder continued gathering stories from victims. Ultimately, 9,539 would join their case, which went to trial in September 1992. It took a little over two weeks for a Hawaiian jury to find that Marcos had been responsible for presiding over abductions, torture, executions, and "disappearances." The jury ordered that his estate would need to pay damages, the extent of which would be determined during a separate trial. Swift and Broder allowed themselves a celebratory courtroom hug before quickly getting back to work. Now would come the hard part.
To determine how much victims were owed, Broder and Swift would first need to demonstrate how much Marcos was worth. They had little to go on. Marcos was dead, and Imelda and Bongbong weren't eager to help. Moreover, Selda, a local nonprofit that was formed to advocate for former political prisoners and had initially helped Swift and Broder put together their case, had soured on the lawyers. Swift was viewed by some Selda members as "a representative of imperialist America," explains Etta Rosales, an activist and torture victim who left Selda to form a separate victims' group called Claimants 1081, which was more supportive of Swift's efforts. "He was seen as an enemy."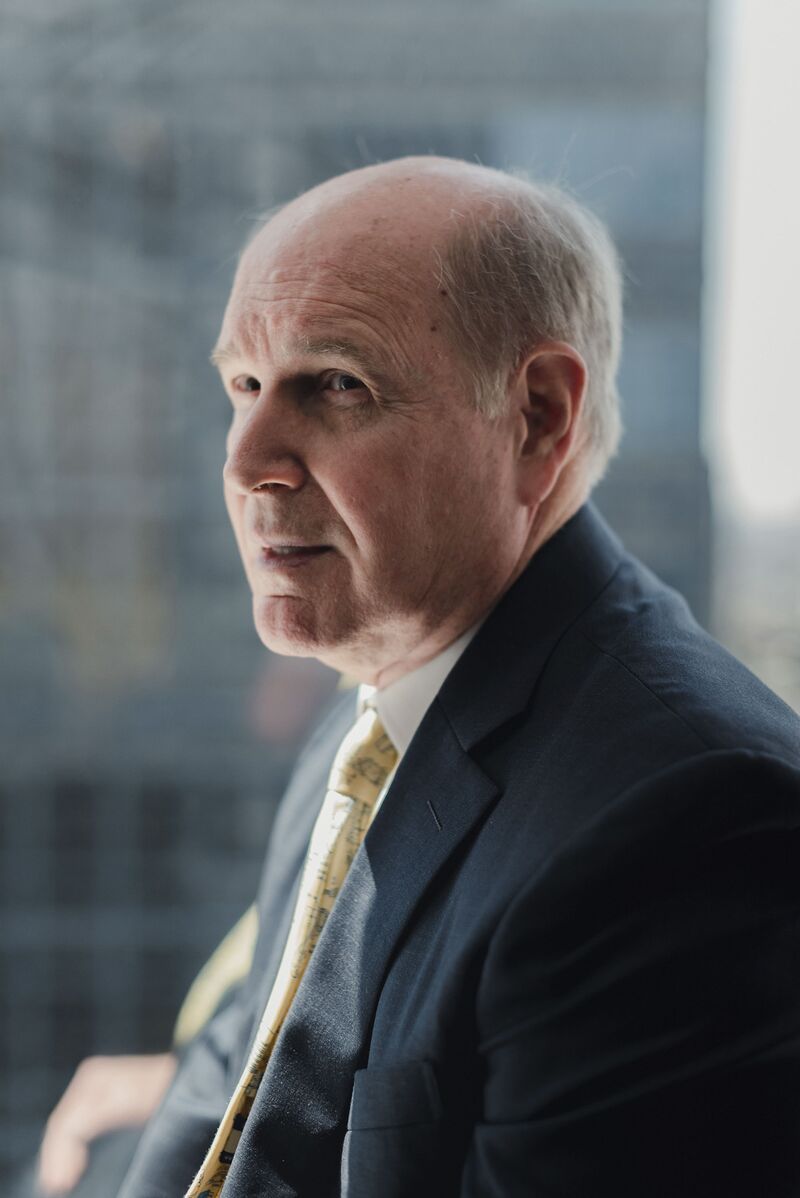 The political situation in the Philippines didn't make things any easier. The Marcos family had regained some popularity among Filipinos who saw the new reformist government as ineffective, and Imelda had returned in 1991 with her children. Now, loyalists were attempting to subvert the American case.
While Swift was on his way to depose Imelda in a suburban home in Manila in 1993, his chauffeured car was pelted with eggs and tomatoes. When he complained that the demonstrators might disturb the interview, the Marcos family's lawyer, an American from Oklahoma City named James Linn, shrugged. "You are going to get the Marcos followers wherever you go in the Philippines," he said, according to a deposition transcript. Later that day the electricity failed, and Imelda had one of her maids fan her with a large palm leaf.
Her testimony was inconsistent. She recounted how, before they married, Ferdinand had taken her to a bank by the Pasig River, where he led her into a vault stacked full of currency and precious metals. "I could feel he was wealthy. I could get anything," she boasted in the deposition transcript. But in response to a question about her husband's real estate holdings, Imelda insisted on her ignorance. "I was not at all interested in his finances, his wealth and his assets," she said.
In the trial to determine damages in 1994, Swift ultimately asked the jury to award the class $1 billion—enough to give each victim $100,000, or more than 100 times the Philippine per capita income at the time. "If you award $10,000 per individual that's $100 million, if you award $50,000 per individual that would be $500 million. And if you award $100,000 per individual it would be a billion," he explained to the jury. "Certainly that is not an unreasonable amount to exact from the estate of Ferdinand Marcos, who bears the ultimate responsibility for these abuses."
It was a big request, and Swift knew it. In response, the Marcos family's lawyer stood before the jury box and said, with rehearsed incredulity: "Mr. Swift just asked you for $1 billion!" ("I did everything I could to keep a straight face and not blush," Swift recalls.)
But when the jury foreman passed the verdict to Manuel Real, the silver-haired judge presiding over the case, Swift noticed a wry smile creep across the judge's face. In the space left blank for exemplary damages, the foreman had scrawled $1.2 billion—$200 million more than Swift had requested. A year later, the jury would add $766 million in compensatory damages, bringing the total settlement to almost $2 billion, the highest judgment of its kind.
Swift was flabbergasted. "I guess I did a better job than I thought," he recalls thinking. While he hoped the scale of the judgments might facilitate a settlement, Swift knew that what he and Broder had at that point was just number on a piece of paper. Transforming it into cash would be another matter.

Even as the Marcos clan turned spending into a sort of performance art—shipping in Moroccan horses for their daughter Irene's wedding, or buying up the entire inventory at a Sotheby's auction and then attempting to purchase the apartment where the auction had been held—they were also savvy about protecting their wealth. By the time he left office, Ferdinand had squirreled away money in Swiss bank accounts, Panamanian shell companies, and foundations in Liechtenstein.
In 1986, just after Marcos fled to the U.S., one of his confidants, Jose Yao Campos, submitted a statement to the Philippine government admitting he set up at least 34 shell companies for the despot. According to reporting by the Wall Street Journal at the time, Campos also turned over 2.2 billion shares of stock and a list of real estate holdings he managed for Marcos that filled nine typed pages. Years later, Imelda confessed to a BBC host that Ferdinand had once chided her for renovating their home, because he'd stowed lead-covered gold bars in the drywall. Marcos had been trained as a lawyer, Swift notes, adding, "He also was excellent at accounting work."
Just locating the Marcoses' assets would have been difficult enough, but to further complicate matters for Swift and Broder, the Philippine courts didn't recognize the judgment granted in the U.S., meaning the lawyers wouldn't be able to target Marcos's property in the Philippines. On top of that, many of the family's most obvious assets were quickly seized by a competing effort in Manila, the Presidential Commission on Good Government (PCGG), which had been launched when Marcos went into exile.
Swift says he and Broder have had to be opportunistic, collecting whatever pieces of property they could find. In 1995, for instance, Broder noticed that a Mercedes-Benz sedan had been sitting unused in the driveway of a Hawaii home where the Marcoses had stayed. The lawyers impounded it and sold it for $30,000 to a collector with a thing for vehicles owned by dictators. (The Las Vegas buyer displayed the Marcoses' car, a bulletproof 500 SEL, alongside vehicles that had been driven by Adolf Hitler and Juan Perón.)
Meanwhile, the pool of rivals fighting over the Marcos fortune continued to expand. In 1996 a jury in Hawaii found that $22 billion was owed to the estate of Rogelio Roxas, a Filipino locksmith who claimed to have stumbled on a trove of gold bars and diamonds that Marcos military officers later stole at gunpoint. After that, when Swift and Broder would begin legal proceedings to seize an asset, the Roxas estate would often argue it should get a cut. "The lawyers watch and see what I'm doing, and then they file on top," Swift says with a sigh.
Such competition forced Swift and Broder to get creative. Later that year, the lawyers received a $1 million settlement related to a Hawaiian property suspected of belonging to the Marcoses: a stucco house that featured sweeping views of Diamond Head and the Pacific Ocean but also a nasty termite infestation. Business associates of the Marcoses, the Tantoco family, claimed to be the home's rightful owners and offered to pay Swift and Broder's class to stop pursuing the property in court, which they had been doing in competition with the Philippine government and the Roxas estate.
"They figured I was going to get the evidence together, and they would just argue they were entitled to a piece of whatever was awarded," Swift recalls. Instead, he and Broder settled with the Tantocos out of court, leaving the other parties without any evidence to present.
But these were small victories. By 2000, after several failed attempts to settle with the Philippine government and the Marcos estate, Swift says he and Broder had collected only a little more than $1 million. Then he received a call from a Texas oil investor named Alan Meeker, who'd read about Swift's class action in the newspaper. Meeker had been searching for land that might allow him access to shale oil near Fort Worth. He'd come across several attractive parcels, but says he "couldn't find the darn owner."
Meeker remembered a rumor he'd heard years earlier that Marcos had property in Texas. He managed to get Imelda's phone number in Manila and, when he explained why he was calling, Imelda seemed unexpectedly thrilled. "You're my savior. You're sent from heaven to me," Meeker recalls her saying. "I've been looking for these properties since my husband died."
She explained that Campos, the Marcos confidant, had bought the land on her husband's behalf and then proceeded to "steal it" when Marcos died.
"I'm sorry Mrs. Marcos, but I don't understand what you mean," Meeker told the former first lady. "How do you steal property?"
"Well," Meeker remembers her saying, "they took all the records. But they're mine."
On the phone with Meeker, Swift was polite but was skeptical that the Texas land was relevant to his case. After seeing the documents Meeker had collected during his due diligence, however, he came around. "I get a call once a week from someone saying they found the Marcos gold," he told Meeker. "Ninety-nine percent are rabbit trails that we don't want to go down. But I really think you have something here."
It turned out that several shell corporations in the Dutch Antilles linked to the Marcoses secretly owned 4,500 acres of land in Texas and Colorado, which would lead the Campos family to pay the class a $10 million settlement in 2010. Representatives of the family could not be reached for comment. It was far from the almost $2 billion owed to the human-rights victims, but for the first time it would allow Swift and Broder to distribute money to the class members.
In a newspaper interview at the time, Broder said: "This is a lot less than what we had hoped for, and what the victims really deserved. But I think it is precedent-setting." She continued: "It's like we finally broke through the glass ceiling of collection in human-rights cases."
In February 2011, Swift flew to the Philippines to personally hand a $1,000 check to each human-rights victim registered in the class action. He spent the next six weeks traveling around distribution points scattered throughout the country's 7,640 islands. "It had been such a struggle to obtain the settlement," he explains. "I wanted to make sure the money landed in the right hands."
Upon meeting Swift, some class members lifted their shirts and pant legs to show him their gunshot and amputation wounds. One woman pulled out a photograph depicting a pile of bodies; the military had murdered 11 members of her family and heaped their naked corpses.
Two years later, legal action over the disputed ownership of Le Bassin aux Nymphéas, an iconic Monet painting once purchased by Imelda, allowed Swift and Broder to extract a $10 million settlement from Alan Howard, a British hedge fund billionaire who'd bought the painting thinking it had a clean title. Swift distributed those funds to the human-rights class in 2014. After the sale of a group of Impressionist paintings owned by the Marcoses, he made another trip in July 2019, distributing an additional $10 million.
While Swift was in the Philippines to make the latest distribution, Imelda Marcos held a massive 90th birthday party at a sports arena in Manila. Afterward, more than 260 of her guests were hospitalized for food poisoning.

Despite the many accusations against Ferdinand Marcos and three decades of effort by activists to hold his family to account, the Marcoses are more popular than they've been in decades. In 2019, after nine years as governor of Ilocos Norte, the home state of Ferdinand Sr., Imee Marcos was elected to the Senate as a member of the Nacionalista Party, the same conservative-leaning party her father belonged to. Bongbong, also a Nacionalista, ran for vice president in 2016, ironically on a platform of fighting corruption and reducing inequality. He lost but is rumored to be considering a 2022 presidential run.
A recent survey by Pulse Research Asia Inc., a public opinion polling body, put him in second behind Sara Duterte, daughter of current Philippine President Rodrigo Duterte, who has previously stated she won't run. (Presidents in the Philippines are confined to single six-year terms, making Rodrigo Duterte ineligible for reelection.)
Bongbong's supporters tend to be young people, who weren't alive to witness martial law, as well as some older people who viewed Marcos's 21 years in office as a sort of Golden Age, when order reigned and crime was low. President Duterte, who's been accused of thousands of extrajudicial killings under the guise of combating the drug trade, has also been a loyal supporter of the Marcos family.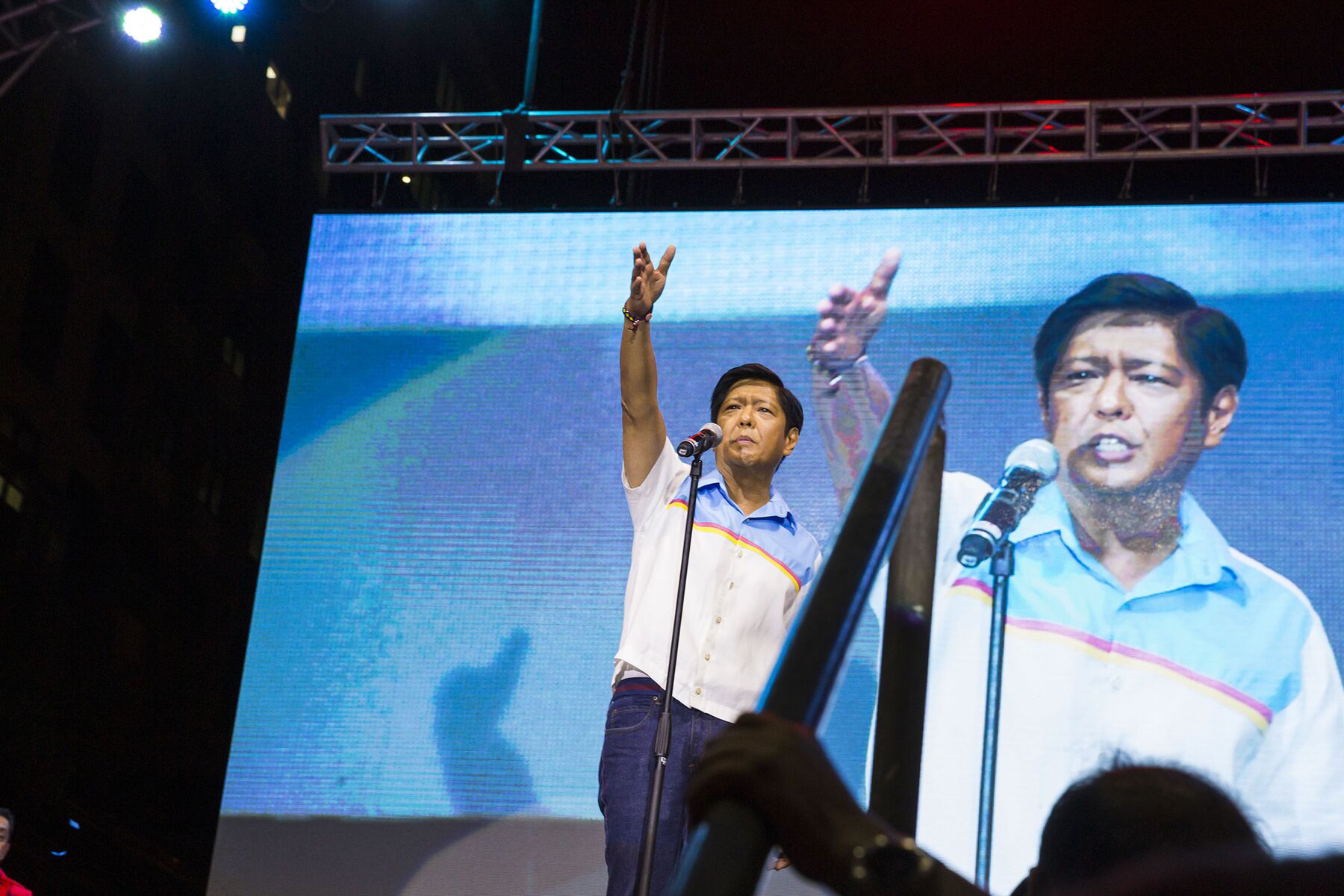 Benjamin Tolosa Jr., an associate dean and political science professor at Ateneo de Manila University, says the Marcos family's wealth, which they've managed to preserve despite the efforts of Swift, Broder, and others, helps them retain influence. Political opponents say Bongbong used money stolen by his father to run ads during his 2016 vice presidential campaign. Scenes in The Kingmaker, a 2019 documentary about Imelda, show her swanning around Manila in recent years, handing out cash to the excited mobs that surround her car and to children at a cancer hospital. The estimated $10 billion that the family amassed "is tragically being used to consolidate the Marcoses' power, prevent them from becoming fully accountable, and is now helping them to fully regain presidential power," Tolosa says. Bongbong has said he doesn't know the whereabouts of his dad's allegedly hidden assets. In a 2017 press conference, he said that if the Filipino government found anything, it would be welcome to it. "Keep in mind that when Ferdinand Marcos was brought to the U.S. all of his records were seized by U.S. authorities and many went missing," says John Bartko, a lawyer for the Marcos family.
In general, the Marcos children are nonchalant about the accusations of torture and corruption against Ferdinand Sr. "What am I to say sorry about?" Bongbong Marcos said during a 2015 interview on Headstart, a morning TV show, rattling off a list of achievements he attributed to his dad. "Will I say sorry for the agricultural policy that brought us to self-sufficiency in rice? Will I say sorry for the power generation? Will I say sorry for the highest literacy rate in Asia? What am I to say sorry about?" Taking a similar view, in 2018 Imee told Philippine newspapers: "The millennials have moved on, and I think people at my age should also move on as well."