We have 117204 hits

since the website was created


July 15 2008
Sherpa Climber Scales Mount Everest for Record 23rd Time
Kami Rita, 49, first scaled Everest in 1994 and has been making the trip nearly every year since.
The Daily Debunker brings you the top stories on Snopes.com.
KATHMANDU, Nepal (AP) — Sherpa climber Kami Rita scaled Mount Everest on Wednesday for a 23rd time, breaking his own record for the most successful ascents of the world's highest peak.
Rita reached the summit with other climbers Wednesday morning and all of them were reported to be safe, said Gyanendra Shrestha, a Nepalese government official at the mountain's base camp.
Rita's two closest peers have climbed the 8,850-meter (29,035-foot) peak 21 times each, but both of them have retired from mountain climbing.
"It is my profession, but at the same time I am setting new world record for Nepal too," Rita told The Associated Press last month before heading to the mountain.
Rita, 49, first scaled Everest in 1994 and has been making the trip nearly every year since, one of many Sherpa guides whose expertise and skills are vital to the safety and success of the hundreds of climbers who head to Nepal each year seeking to stand on top of the world.
His father was among the first Sherpa guides employed to help climbers reach the summit, and Rita followed in his footsteps and then some. In addition to his nearly two dozen summits of Everest, Rita has scaled several other peaks that are among the world's highest, including K-2, Cho-Oyu, Manaslu and Lhotse.
Rita was at Everest's base camp in 2015 when an avalanche swept through, killing 19 people. After that tragedy, he came under intense family pressure to quit mountaineering altogether, but in the end decided against it.
"I know Mount Everest very well, having climbed it 22 times, but at the same time I know I may or may not come back," he told AP last month. "I am like a soldier who leaves behind their wives, children and family to battle for the pride of the country."
Rita has been an advocate for other Sherpa guides, who he said do not get the recognition they are due.
He said that before climbers reach the summit to take their photographs announcing their success, there are months of hard work done by Sherpas. The Sherpas are the ones who take care of setting up the camps, carrying the loads on their backs, cooking food and carrying oxygen tanks.
Perhaps most important, it is Sherpas who each year fix ropes and ladders over crevasses and icefalls that make things safer for the hundreds of climbers who will follow them.
"However, when these climbers reach the summit, only their names are highlighted and nothing mentioned about the hard work done by the Sherpas," Rita said last month.
Sherpa tribespeople were mostly yak herders and traders living deep within the Himalayas until Nepal opened its borders in the 1950s. Their stamina and familiarity with the mountains quickly made them sought-after guides and porters.
On Tuesday, it was a team of Sherpa guides who again were the first to reach Everest's summit this year, completing their advanced work of setting up ropes and lines.
There are 41 different teams with a total of 378 climbers who have been permitted to scale Everest during this year's spring climbing season. There are an equal number of Nepalese guides helping them to get to the summit.
Each May, there are usually only a few windows of good weather near the summit during which climbers can attempt to scale the peak.
ROYAL BABY
At the photo call, Meghan told journalists, "It's magic. It's pretty amazing. I mean, I have the two best guys in the world. So, I'm really happy."
Harry said "parenting is amazing."
"We're just so thrilled to have our own little bundle of joy and be able to spend some precious times with him as he slowly, slowly starts to grow up," he told the press.
Shortly after the royal baby's birth was announced, Harry spoke out about his son at Windsor Castle.
"I'm very excited to announce that Meghan and myself had a baby boy this morning, a very healthy baby boy," Harry said. "Mother and baby are doing incredibly well. It's been the most amazing experience I can ever possibly imagine. How any woman does what they do is beyond comprehension but we're both absolutely thrilled and so grateful for all the love and support from everybody out there. It's been amazing so we just wanted to share this with everybody."
The couple, who tied the knot almost a year ago on May 19 at St. George's Chapel at Windsor Castle, welcomed their baby boy on Monday, May 6. They appeared with him for the first time at a press photo call at Windsor castle on Wednesday.
At the time, Harry added that they were "still thinking" about baby names.
Dominic Lipinski/PA Wire
"The baby's a little bit overdue so we've had a little bit of time to think about it, but um yeah we're still, that's that's the next bit," Harry shared. "But for us I think we'll be seeing you guys in probably two days time as planned as a family to be able to share it with you guys so that everyone can see the baby."
Meghan's pregnancy was first announced in October, shortly after arriving to Australia with her husband.
"Their Royal Highnesses The Duke and Duchess of Sussex are very pleased to announce that The Duchess of Sussex is expecting a baby in the Spring of 2019," Kensington Palace said in a statement. "Their Royal Highnesses have appreciated all of the support they have received from people around the world since their wedding in May and are delighted to be able to share this happy news with the public."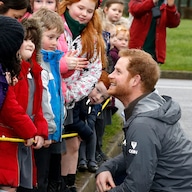 Did William Shakespeare Say He Was Always Happy Because He Didn't 'Expect Anything From Anyone?'
A popular quote attributed to Shakespeare about his reason for happiness wasn't actually written by the famous playwright.
A popular quote supposedly from William Shakespeare about how he always felt happy has been around various parts of the Internet for several years. We have seen this quote attached to the famous playwright on blogs, social media posts, Spanish-language booksabout tarot cards, and, of course, dozens of memes:
The exact wording of this quote can change from post to post, but the following text seems to be the most prevalent version:
I always feel happy, you know why? Because I don't expect anything from anyone; expectations always hurt. Life is short. So love your life. Be happy. And keep smiling.

Just live for yourself and always remember:

Before you speak… Listen
Before you write… Think
Before you spend… Earn
Before you pray… Forgive
Before you hurt… Feel
Before you hate… Love
Before you quit… Try
Before you die… Live
The portion of this quote, starting with "before you write" and ending with "before you die" appears to have been taken from a poem that was purportedly written by William Arthur Ward, an American author best known for his inspirational maxims. The one notable difference between the fake Shakespeare quote and the poem is that Ward (if it is indeed his poem) ended his text with a call to "give," not "live":
Before you speak, listen.
Before you write, think.
Before you spend, earn.
Before you invest, investigate.
Before you criticize, wait.
Before you pray, forgive.
Before you quit, try.
Before you retire, save.
Before you die, give.
Although Ward most likely wrote this poem (it is certainly more aligned with his style than with Shakespeare's more florid prose) we have yet to uncover where it was first published. It was credited simply as a "Catholic quote" when it appeared in a Kansas newspaper in 1969:
Since Shakespeare lived long before the age of audio and video recording, one would expect a written record of all of his quotes, yet in the dozens of postings that we encountered attributing this quote to Shakespeare, not one pointed to an actual source. Furthermore, when we started digging into the actual phrases used in this passage, we found that some portions could be attributed to another author named William — just not Shakespeare.
The Bard did, however, write that "life is short" at least once. From Henry IV, Part 1:
I cannot read them now.
O gentlemen, the time of life is short!
To spend that shortness basely were too long,
If life did ride upon a dial's point,
Still ending at the arrival of an hour.
An if we live, we live to tread on kings;
If die, brave death, when princes die with us!
Now, for our consciences, the arms are fair,
When the intent of bearing them is just.
Shakespeare also touched on expectations in the play All's Well That Ends Well:
Oft expectation fails and most oft there
Where most it promises, and oft it hits
Where hope is coldest and despair most fits.
This viral Shakespeare "quote," then, is merely a pastiche of general platitudes. Although it may have touched on some of the general ideas that William Shakespeare wrote about, the included prose was certainly not written by the Bard himself.
BY JILL O'HORA
4,600 PEOPLE HAVE TAKEN THIS COURSE
It is impossible to overestimate William Shakespeare's formidable impact on people and cultures throughout the world. Shakespeare's plays, sonnets, and poems have stolen the hearts of even the least likely audiences and readers in every corner of the globe. One obvious reason is his sheer command of the language. He contributed over three thousand words to the English language, in part because he was the first to write down many of these words. But he also coined new words in every piece he wrote. And Shakespeare's prolific writing also contributed to his monumental reach: he managed to write thirty-eight plays, and possibly contribute to others, as well as to complete one hundred and fifty-four sonnets and five poems. His immense crowd of characters span the gap from beings barely above vegetable and mineral level (Caliban in The Tempest or Peaseblossom in A Midsummer Night's Dream) to philosophical princes and history-shattering queens.

In the end, however, it is not the sheer magnitude of his work or characters or his virtuoso use of technique or language that defines his true genius. The truly miraculous core of Shakespeare's work is his stunning expression of the full range of the human mind and heart. And certainly Shakespeare's wisdom, cynicism, humor, and word play are a match for any writer around the globe. The astounding fact is that Shakespeare could write his way convincingly into just about any character that he could imagine. And in this respect, Shakespeare stands with only a handful of other great literary geniuses anywhere in the world and in any historical time period. Because of his particular kind of genius, Shakespeare's works allow the reader to continually mine the riches of the heart and to see its landscape perpetually painted in rich, true colors.

A Year of Shakespeare's Wit and Wisdom

This 365 day course presents a medley of Shakespeare's observations on life, politics, and nature. The quotes include excerpts from impassioned soliloquies, proverbial wisdom, and even selected prayers and curses. Each day you will receive a brief quote, a short description of the scene, and a contemporary rephrasing of the quote. As the weeks pass, readers will discover Shakespeare's astonishing grasp of the intricacies of the human soul and of nature's miraculous beauty.

What People Are Saying

"I took a Shakespeare course in Ashland OR with Dr. O'Hora and it was obvious that she is a real Shakespearean scholar and her interpretations can be trusted." - PS

"In this age of short attention spans, quips and quick critiques, this gives you a daily dose of Shakespeare that is short and easy to digest, with a modern translation that helps you understand and appreciate Shakespeare's turn of phrase." - Edward

"This is a splendid compilation of Shakespeare verbal marvels... The breadth of subject matter used from Will is wonderful: love, war luck, food, sex, human folly, one's own folly, aging. The quotes include a few old friends but mostly nonstandard bits seen for the first time as gems." - Franko

"O'Hora has chosen an array of phrases to capture human qualities throughout the year, such as humor, intuition, love, even fashion. Told this way, Shakespeare seems modern, even timeless, and thoroughly accessible." - Karen

"O'Hora's deep understanding of Shakespeare makes each day a new and wondrous discovery." - Bryher

About Jill O'Hora
Jill O'Hora, Ph.D., is an English professor at Pasadena City College, Pasadena, California. Her doctoral dissertation on Shakespeare's tragedies provides the foundation for her teaching and writing career. In addition to Shakespeare and theatre, her academic interests include interdisciplinary teaching, cross-cultural perspectives, and Jungian psychology. Dr. O'Hora has conducted theatre groups in Oregon, Canada, and Ireland and has presented cross-cultural drama workshops and lectures in Russia and England. Her publications include a Jungian approach to Shakespeare's Scottish tragedy, "The Consciousness of Evil in Shakespeare's Macbeth," and The Ties That No Longer Bind, a book of conversations between Russians and Americans. This course is a direct reflection of Jill's lifelong reliance on Shakespeare's plays and poems as sources of guidance and inspiration.
A Year of Shakespeare Quotes and Translations
BY JILL O'HORA
Lesson 34: Battle of the Sexes
Much Ado About Nothing
1.1.113-16

Benedick
What, my dear Lady Disdain! Are you yet living?
Beatrice
Is it possible Disdain should die, while she hath such meet food to feed it as Signior Benedick?
Context
Beatrice, the niece of the Governor of Messina, speaks to the man she loves to hate, Benedick, a noble from Padua who has just returned from a military campaign. Both Beatrice and Benedick claim to despise romantic love. When Benedick is left alone with Beatrice, he attempts a conversational remark that falls flat after Beatrice tells him that nobody is listening to him.
Translation
Who's this? My dear Lady Disdain? Are you still alive? Beatrice: Can Disdain ever die when she has such perfect food to nourish herself on as you, Signior Benedick?
Happy Belated Mothers Day to you!
(And if you aren't a mom, this is for you too.)
I wasn't able to get this to you yesterday and I apologize but better late that never, right?...LOL.<:
Expectations can run so high on Mothers Day and all kinds of "stuff" ...self-worth, grief and joyful memories often emerge.
I know as a care giver that Mothers Day is full of mixed feelings for most.
Some are missing their moms and their grief is very absorbing or sometimes faint and lingering.
Some are enjoying memories or making new ones with their loved ones.
Others are wishing they had nurturing mothers and feeling the empty hole highlighted on this day.
Others are mothers trying to know and FEEL their value in a culture or family system that does not always deeply honor the amazing gift of being a mother and all that it entails.
Some wish they could be moms and long for the day they will get this experience and others grapple with not having the option to be a mother in the way they had wanted or expected.
Some are basking in the glow of feeling loved and supported by those around them.
Whatever categories you fall into this Mothers Day week (we will make it a week<:), just know that the Mother Archetype is available to everyone.
So what does this mean?
Archetypes represent universal patterns of human nature.
Dr. Carolyn Myss defines the Mother Archetype as "life-giver, source of nurture and nourishment."
Mother Archetype holds the qualities of patience, devotion, caring and unconditional love. The capacity to forgive her children and put them before herself is essential to the "Good Mother."
She also reminds us that "you don't need to be a biological mother, but their must be a devotion to nurturing and protecting the environment or supporting life in any form including giving birth to books or ideas to fall within the Mother Archetype."
Are you mothering life and the life within you with devotion, care and unconditional love?
My wish for you is to find those things to nurture that:
1) give you life,
2) give others life and
3) that are worthy of your sacrifice.
This will bring you more JOY and Passion and....passion truly is the pipeline to your Soul!
With all my love and joy
Dr. Shannon
P.S. A great saying I love is, "if it's good for you, it's good for them."
P.S.S. Remember self-neglect is the number one reason for depression so when we find and nurture these precious needs, it fills our joy cup.
Dr. Shannon South(828) 230 5477Email: shannon@drshannonsouth.com
Blog: drshannonsouth.com/blog/
Your Heavenly Father Wants You Blessed and Healthy!
"So don't worry about these things, saying, 'What will we eat? What will we drink? What will we wear?' These things dominate the thoughts of unbelievers, but your heavenly Father already knows all your needs…and He will give you everything you need."
Matthew 6:31–33, NLT
If you were a parent, wouldn't you want the best for your children? Would you ever want them to be diseased, poor and suffering? Of course not. You'd want your children to be blessed, strong and healthy, and enjoying the best things in life, wouldn't you?
Think about this for a moment. If you on earth know how to give good gifts to your children, how much more your Father in heaven who loves you and knows how to bless you and your children with divine health, provision and protection!
Beloved, expect to receive good from the Lord, who is full of grace and mercy, every day!
Feeling Lonely
BY MADISYN TAYLOR
When we are feeling lonely, we have lost the idea that we are all one and none of us are separate from the whole.
We all have days when we feel lonely, but the very idea of loneliness comes from the false notion that we are separate and isolated parts in a world filled with other separate, isolated parts. In truth, we can no more be separate from our world than a fish can be separate from the water in which it swims. When we really begin to look at the boundaries we see as so solid, they prove to be, in fact, quite porous. For example, it is not clear exactly where our skin ends and the air begins when we consider how our skin is affected by changes in the quality of the air. When it is dry, our skin becomes dry, and when it is humid, our skin becomes moist and supple.

By the same token, it is difficult sometimes to distinguish the boundary between one person and another, especially when our actions tie us together so inextricably. Every move we make has an effect that touches all the people around us. On an even more subtle level, when we share space with another person, we often pick up on their energy, feeling how they feel and attuning to them, whether we mean to or not. This is what we mean when we say a mood or a feeling is contagious. We cannot help but be part of the realities of the people around us because we take form from the same energetic force, and this force unifies all life. This force is the light that all the great mystics and gurus encourage us to move toward, and it is the light we will dissolve into when we move beyond our individual egos.

If loneliness is a temporary condition based on an incomplete understanding of what we are made of, we can think of its presence as a catalyst for exploring our ideas about reality. We can respond by testing the boundaries we believe separate us from the life within and all around us. If we test them, we will discover that they are not so solid after all and that we can never really be alone.
Listen to Boyd's tribute to his mom, from Wisdom Hunters Podcast Episode 41

My mother's memorial service this past year was the saddest day of my life. The reality of my mom's love began to settle in and stretch my soul. Her love was unique, never to be replaced fully by any human substitute. My mom was a single parent, so her love was even weightier, as she carried an expanded capacity to fill the void of a father. So I wept and mourned over my mother.

My tears were a tribute to her love, how she raised me in an honorable way. Thankfully, I did not weep alone, as teary hugs from friends and family dampened my cheeks and shoulders. Love and grief wept together to bring comfort and peace. Comforted sorrow expands my capacity to care.

Life consists of losses. The loss of a child. Opportunity loss. Financial loss. Relational loss. Physical loss. Every day we lose a day of life. But one of the most significant is the loss of someone who is dearly loved. When Momma died, a part of me died. How can a mother's love ever be replaced? The one whose body I came out of lies horizontal 6 feet in the earth, never to verbally communicate her care for me again. Momma is gone and that still makes me sad.

I wish I could call Momma. Our every other day phone call doesn't seem frequent enough now. Perhaps we should have talked daily, and I shouldn't have been weary of her warnings about the weather and her complaints about her health. Ashamedly, I skeptically listened to what was to be her last self diagnosis of severe abdominal pain---which turned out to be a body ravaged with cancer in the stomach area. A son cannot call his mom too many times. A five minute chat with momma was the highlight of her day and a reminder of who raised me. Momma deserved my listening ear.

"Listen to your father, who gave you life, and do not despise your mother when she is old" (Proverbs 23:22).

Yes life is busy, but what matters most before we bury our parents? Working extra hours, making more money for some uncertain day, maybe having more time at our disposal or taking a day off and hanging out with the one who brought us into this world and who prepared us to live life to the fullest.

What would I do differently... if I knew twelve months ago mom would be gone in a year?

I would walk with her a dozen more times around her garden and hear how too much or too little rain is affecting the tomatoes, since nobody romanced home grown tomatoes like Momma. I would sit on the back porch with her, sip strong dark coffee, and listen to Momma's latest schemes to keep the deer out of her vegetables. I would brush off her three legged dog Dango a few more aggravating times and send him away with disgust at his smell and deformity. I know I should have more compassion and regard for animals, Momma was working on me, because she sure loved her dogs and cats.

Momma's gone, but the memories of her influence remain alive and well, like a rugged kitchen table beautifully stained and naturally scarred by boiling pots, food spills or permanent moisture rings from water glasses, she will forever mark my life with her warts, wisdom and hard work.

"But your dead will live, Lord; their bodies will rise— let those who dwell in the dust wake up and shout for joy— your dew is like the dew of the morning; the earth will give birth to her dead" (Isaiah 26:19).

What Is Hypnosis?

Hypnosis is a term which is often mystified, mis-understood, or simply over complicated. It is used to describe a trance like state, however, in reality we all go in and out of mild "trances" every day; those moments when our minds wander and we daydream, when we focus intently on something and block everything else out, or when we "zone out" either in front of the television, or with a book.

These are all examples of trance like states, and they are all safe and natural. All hypnosis does is put you into one of these mild "trance" states purposefully - with the aim of sending beneficial hypnotic suggestions directly into your subconscious mind.

Far from being asleep or unaware, hypnosis is a wakeful state where you are both deeply relaxed yet have a heightened level of suggestibility as well as a focused awareness. It is because of this this heightened state of mind that you can use hypnosis to make changes to your self beliefs, and patterns of thinking safely and naturally.

How Does Hypnosis Work?

Hypnosis works by relaxing you into a state where your brain shifts its activity. In fact, on a brain scan, a person in hypnosis shows the brainwave activity as we experience in the early years of our lives when our minds were able to sponge up information and immediately integrate it.

This same accelerated learning occurs in hypnosis, bypassing your conscious mind so that your unconscious beliefs and perspectives change quickly and naturally (and it was in your unconscious mind that old limitations and worries were causing you to experience the challenges and discomforts that you're here to change!)

The hypnotist causes this trance formation by using subtle hypnotic commands to put you into a mild trance, a state where your conscious mind is largely in-active, direct access to your subconscious mind can be gained, and positive suggestions can be planted.

Because of this there is no conscious resistance from you, and so changes can be made to long-held belief systems. Often those belief systems were not beneficial, yet they may have been so familiar to us that we would hang onto them and become "logically" defensive of them. For example you might have had a low self image and want to change it, but your fear of the unknown, and relative level of "comfort" at thinking in this way made you resist against change.

However with the power of hypnosis, this logical, conscious thinking function is bypassed and changes are made from within - positive changes which alter your beliefs, how you feel about yourself, and in this example, ultimately your levels of self esteem improve.

Can Anybody Be Hypnotized?

Yes. There are 2 important things to understand about this:

(1) Many of the myths about some people being "susceptible" to hypnosis and other people being un-hypnotizable came from back when hypnotists were trying to do hypnosis the same way every time for every person, regardless of their personality type and learning preference. Since the mid-1900's, though, research has shown us many things about how to adjust the hypnosis approach to fit the mental "template" of the listener, so that everyone can be hypnotised.

(2) Another reason there was a myth that some people couldn't be hypnotised is due to the stage hypnotists / TV hypnotists / movie hypnotists. That form of hypnosis requires a very deep trance, and only about 7% of the population have the right processing style to experience that kind of hypnosis. As a result, the other 93% of people seemed like they weren't hypnotizable.

Hypnosis is actually just one natural state of consciousness, and one which we all enter mild forms of everyday - when we concentrate or focus, when we are reading, learning, or just engrossed in the television. These are all forms of hypnosis, our albums simply put you into a similar state of mind where you are suggestible to new information.

What Does Being Hypnotized Feel Like?

Everyone experiences hypnosis differently, and even from session to session you will have slightly different experiences as sometimes you will "go deeper" than others. Typically you will feel deeply relaxed and comfortable while under hypnosis, and as the session continues you may or may not remember all of what is said to you.

This is partly because some people are more susceptible to hypnosis and will enter a deeper trance straight away, but also because the more you use our albums the more you will get used to it, the more often you will go into a "deeper trance" where you won't remember everything, and the more benefit you will receive - essentially you are training your mind to be hypnotised every time you listen
.
At the end of the session you will return to being your fully alert normal self, you will feel refreshed and energized


---


I hope you've enjoyed this quick FAQ about hypnosis... and that it inspires you to grab your free audio from Hypnosis Bootcamp (if you haven't already done so).

Click Here And Choose Your Free Hypnosis Audio

Your Partner In The Good Life,
Chris Cade

The Water Coolers

The Walking Meditation
Begin by finding a quiet space in nature. Disconnect from your external environment and anchor yourself in the present moment by closing your eyes. Acknowledge your heart center, where the soul and heart intersect with the unified field, and bring elevated emotions such as gratitude, joy, inspiration, compassion, love, and so on to this center. If you are going to believe in your new future with all of your heart, it had better be open and activated.

Rest your attention on the heart, allowing your breath to flow in and out of this center—ever more slowly, more deeply, and more relaxed—for about two minutes. Return to creating elevated emotions within your heart for two to three minutes. Radiate that energy into the space surrounding your body in space and stay present with that energy. Tune in to the energy of your future.

After a few minutes, hold a clear intention in your mind's eye. You might pick a representative symbol that connects you to the energy of your future (discussed further in the book). Change your state of being with the feelings of these elevated emotions, and focus on broadcasting that new electromagnetic signature into the field. Remain in this state for two to three minutes.

Next, open your eyes, and without looking at anything or anyone, open your focus and keep your awareness on the space around your body in space while maintaining a trance state. Begin walking with your eyes open while you stay entranced. With each step you take, embody that new energy—that new frequency of whatever you're creating in your future. As you take this energy with you during your waking, daily life, walking as your new self, you are activating the same neurological networks and producing the same level of mind as when you meditate with your eyes closed.

Next remember your future. Let the images come, feeling them and embodying them. Own them. Become them. Continue to walk for about ten minutes, and then stop to recalibrate. Once again, close your eyes and raise your energy. Stay present with this energy for about five to ten minutes. For the next ten minutes, with your eyes open in trance, walk again with intent and purpose as your future self. With each step you take, embodying this new energy, you move closer to your destiny and it moves closer to you.

Do this cycle two times. When you finish the second round, stop and stand still one last time, really focusing on how you feel with your fourth energy center open. You can use this opportunity to affirm who you are based on how you feel. For example, if you're feeling unlimited, you can literally acknowledge, "I am unlimited." Next, place your hand over your beautiful heart, and be willing to feel valuable and worthy enough to receive what you have created. Raise your energy to its zenith and feel gratitude, appreciation, and thankfulness.

Now acknowledge the divine within you—the energy that powers you and gives rise to all of life. Give thanks for a new life before it's made manifest. Acknowledging the power within you, ask that your life be filled with unexpected wonder, synchronicities, and coincidences that create a joy for existence. Radiate your love while loving your new life into existence.

PACQUIAO News

<